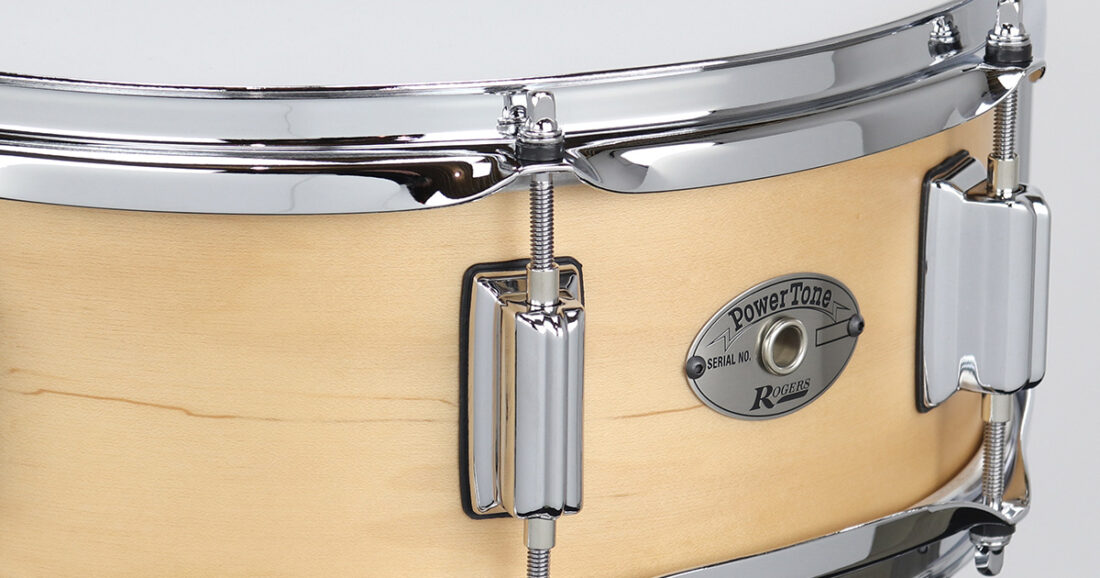 POWERTONE: THE DRUMMER'S VOICE
The snare drum is often called the drummer's "voice ". Which drum we choose, and how we play, tune and blend it's voice with the rest of our kit reveals who we are as musicians. Throughout our own musical journey, we seek an instrument that can nurture our ultimate expression as a player- in versatility, dynamic sense and in-the-pocket reliability.
What is a PowerTone?
Rogers' PowerTone snare drums are the drummer's ally. These snare drums deliver all the wide open tone and rich warmth a drummer could want, along with cutting rim shots and big cross stick tones from both steel and wood shell profiles.
Steel PowerTone snare drums feature a 1.0mm chrome plated shell for a classic look and sound. Dynamically this shell can go from a whisper to a scream and still deliver all the ghost notes with clarity and ease. The steel shell PowerTone is a great choice of snare drum to cover any style of music.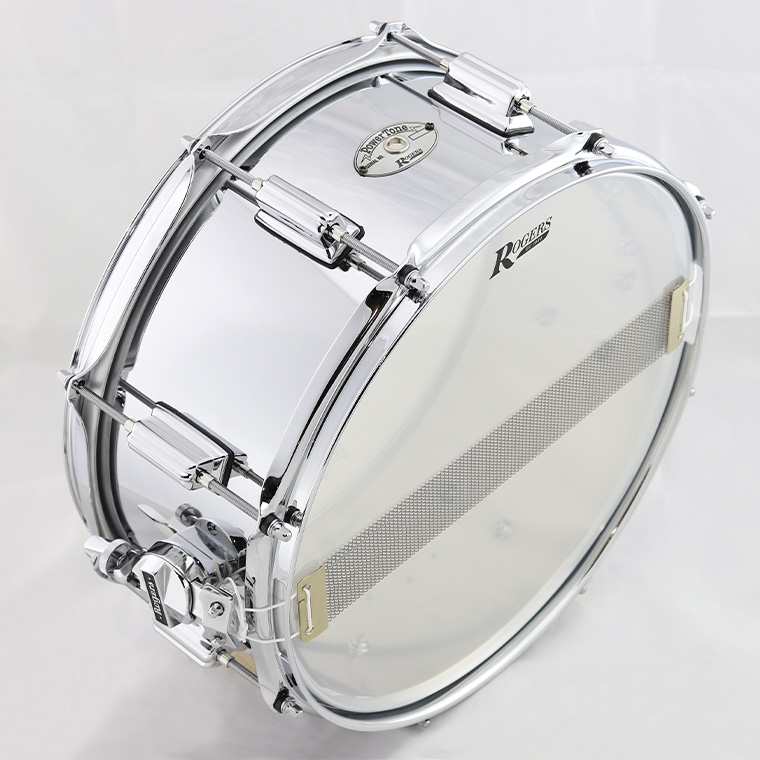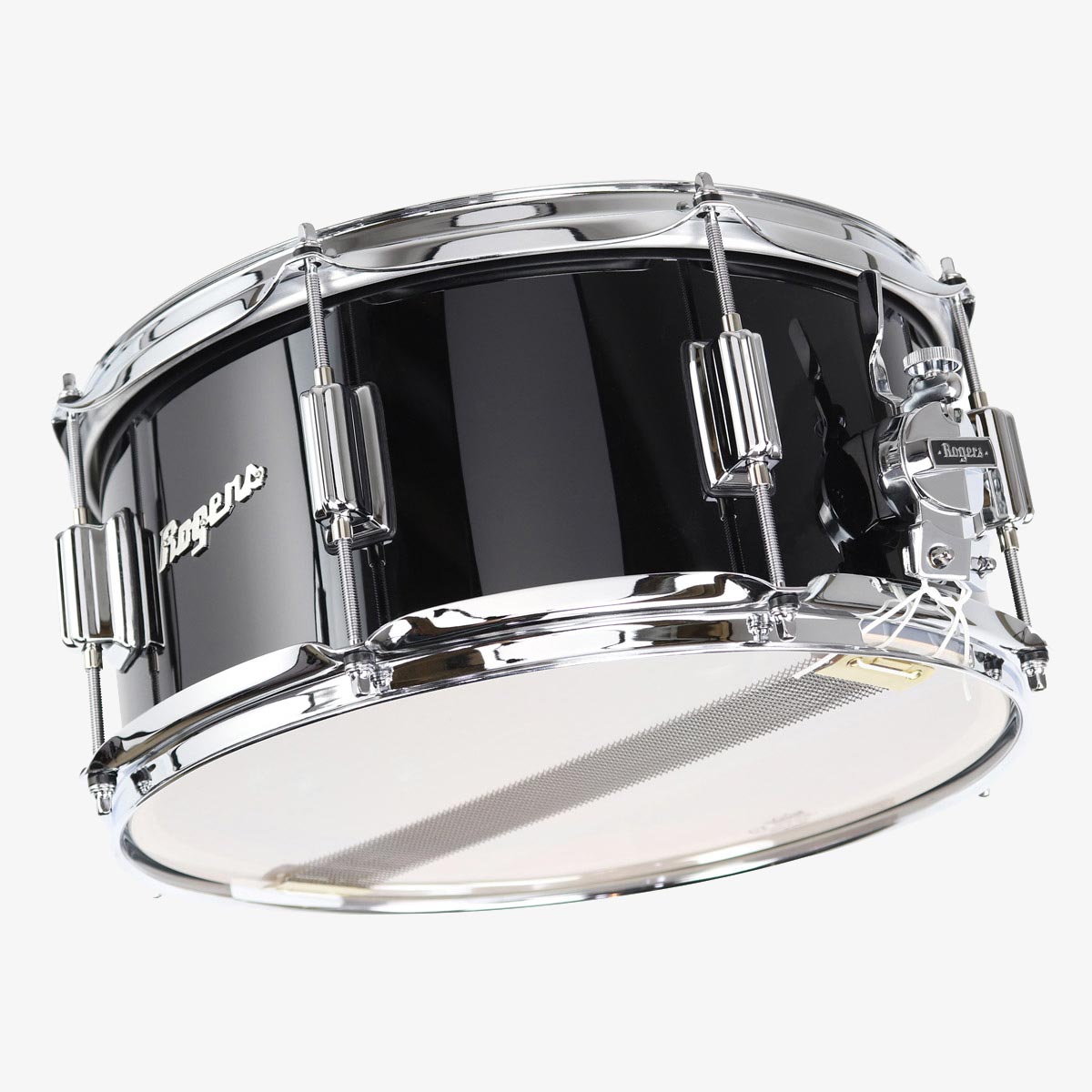 Wood PowerTone models feature a maple/poplar shell construction consisting of a 5 ply main shell with 2 ply reinforcement rings that results in a pure, rich wide open woody tone that's at home with any style of music you introduce it to.
Both Steel and Wood snare drums are available in 5"x14", 6.5"x14" and 8"x14 "sizes, making the PowerTone line of drums a viable choice for any kind of drummer.
Clock Face Throw-Off
The Rogers Clock Face Throw Off offers a simple yet exacting way to dial in the right amount of snare wire sensitivity with the simple turn of a thumbscrew. The user-friendly throw off arm is conveniently located just behind the thumbscrew for easy on-off adjusting.  Drum key screws make securing your snare wires a breeze, and instill confidence that once you set the tension, there will be no loosening of the wires.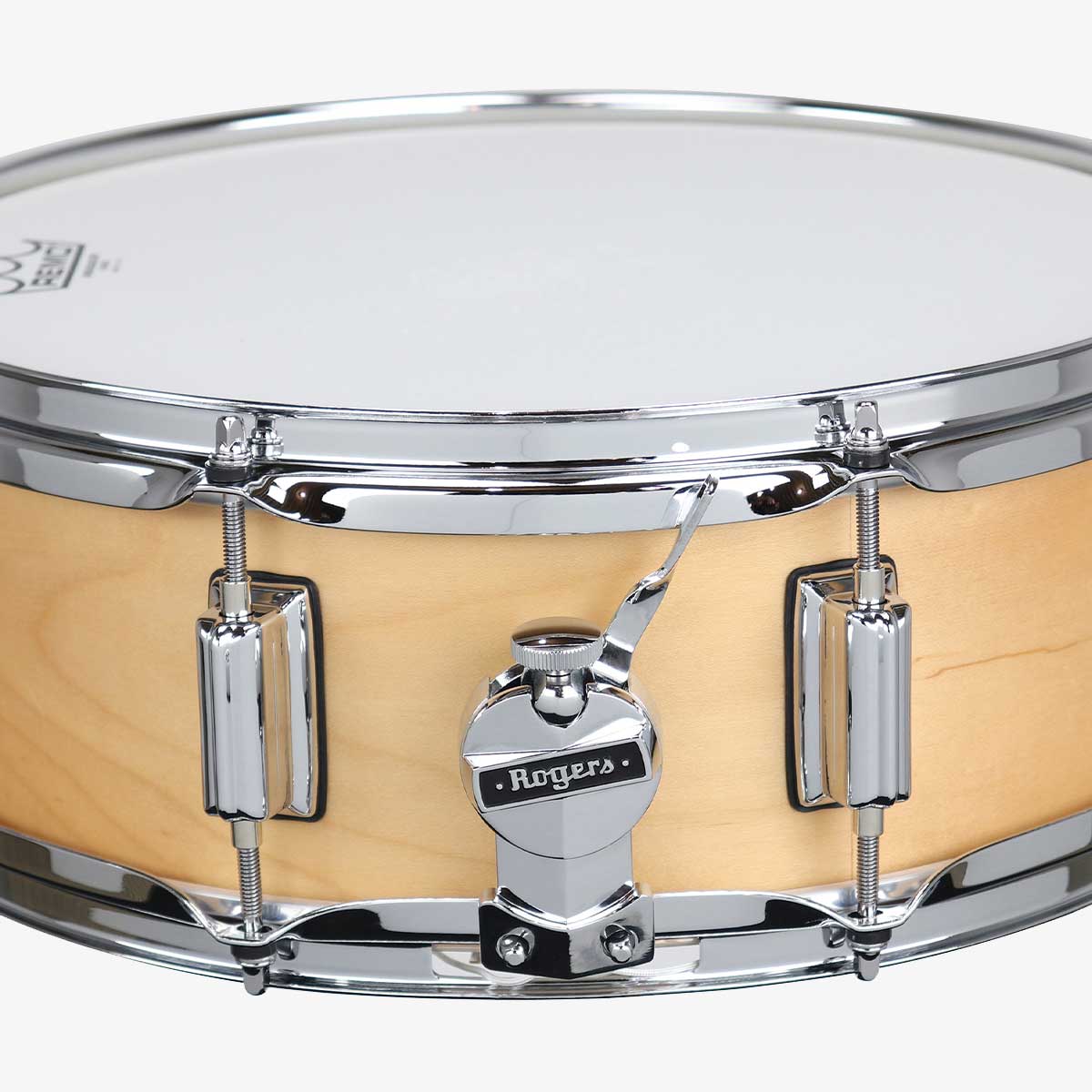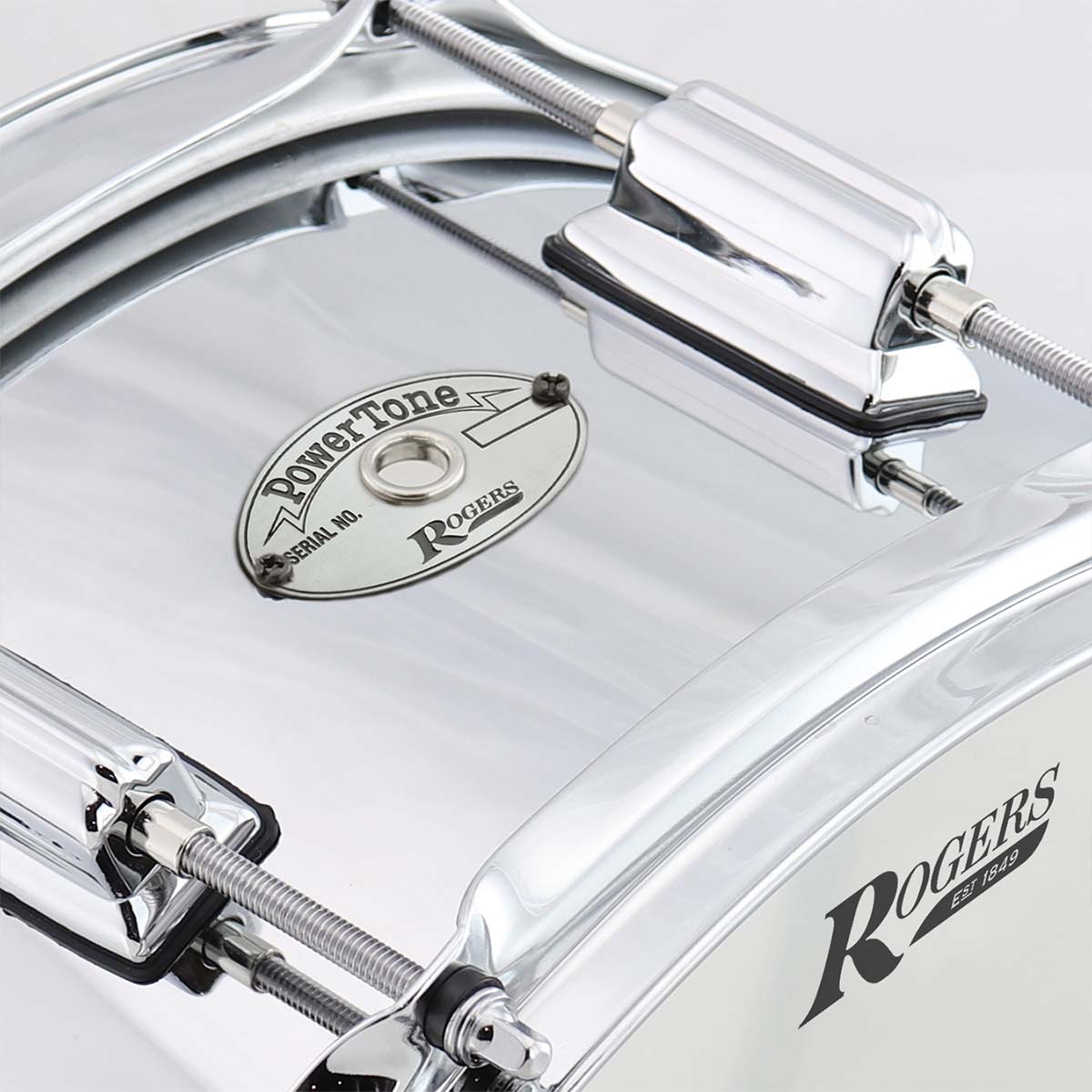 Hoops and Lugs
2.3 mm Chrome plated hoops offer dependable tuning, cutting rim shots and a woody side stick sound. Drummers will appreciate the heavier gauge of the hoops that stand up to today's louder volumes and deliver a versatile tuning range from lo-fi, to high and cutting.
Rogers' Classic Beavertail lugs are featured on the PowerTone snares in an 8 lug design where form meets function. The 8 lug configuration results in a shell that opens up because of less hardware on the shell, offering more tonality, yet can be tuned accurately and will hold its tuning under any playing situation.
Styling
As a nod to the original PowerTone drums, the original Rogers script logo makes its return as well as the new PowerTone  logo badge on the breather hole.
Steel shell PowerTones come in chrome plating. Wood models are available in Satin Natural or Piano Black finishes.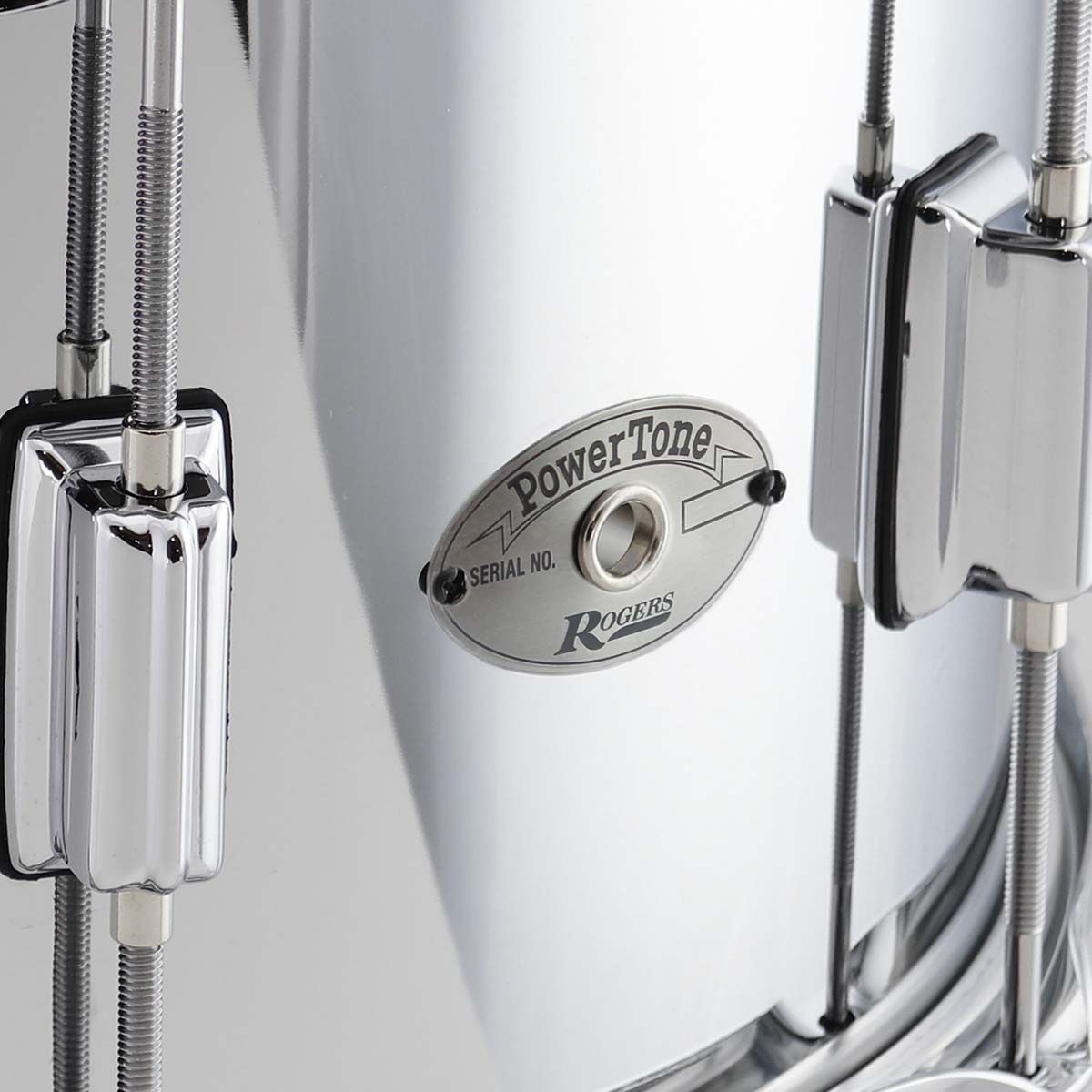 PowerTone
In the legendary tradition of innovation and sound that belongs to the Rogers family of drums, the PowerTone series is an incredibly versatile line of drums that sound and play great in any musical situation. A true all-around workhorse for every player or style.