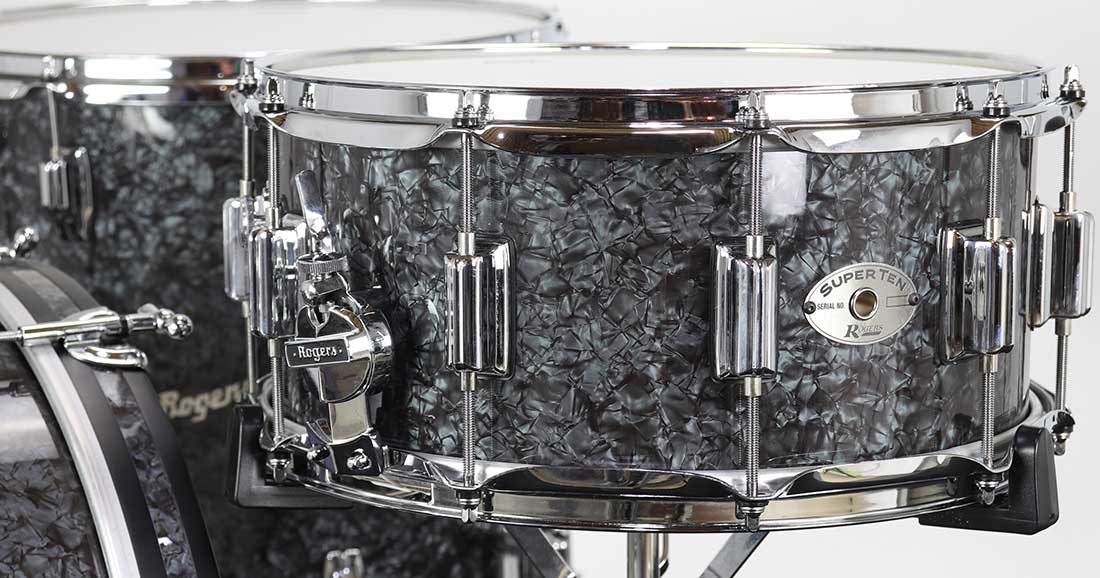 INTRODUCING: SUPERTEN SNARE DRUMS
In the tradition of innovation and sound that belongs to the Rogers' family of drums, the long celebrated SuperTen returns to the roster of legendary Rogers snare drums. This extraordinary drum's roots can be traced to the Dyna-Sonic bloodline of the Rogers family tree.
What is a SuperTen?
The SuperTen snare drum features Rogers' top tier snare drum components and preeminent shell design. Built with a precision ten-lug profile for optimum tuning range and focus of sound, the SuperTen delivers a powerful backbeat with unlimited dynamics in volume and tone.
Wood models feature our own proprietary design of a 3-ply shell of 2mm thick plies of maple and poplar, along with 2-ply reinforcement rings. Each shell interior is hand finished in our exclusive Fruitwood stain. This USA hand built shell delivers warmth and tone that projects in any musical setting, and has a dynamic range that works from the softest of brush patterns to the heaviest of back beats.
Wood shell models are available in 5"x14" (ST36) and 6.5"x14" (ST37) offered in the classic colors White Marine Pearl, Black Pearl, Red Onyx, Blue Onyx, Blue Sparkle Lacquer (Limited quantities) and Red Sparkle Lacquer (Limited quantities).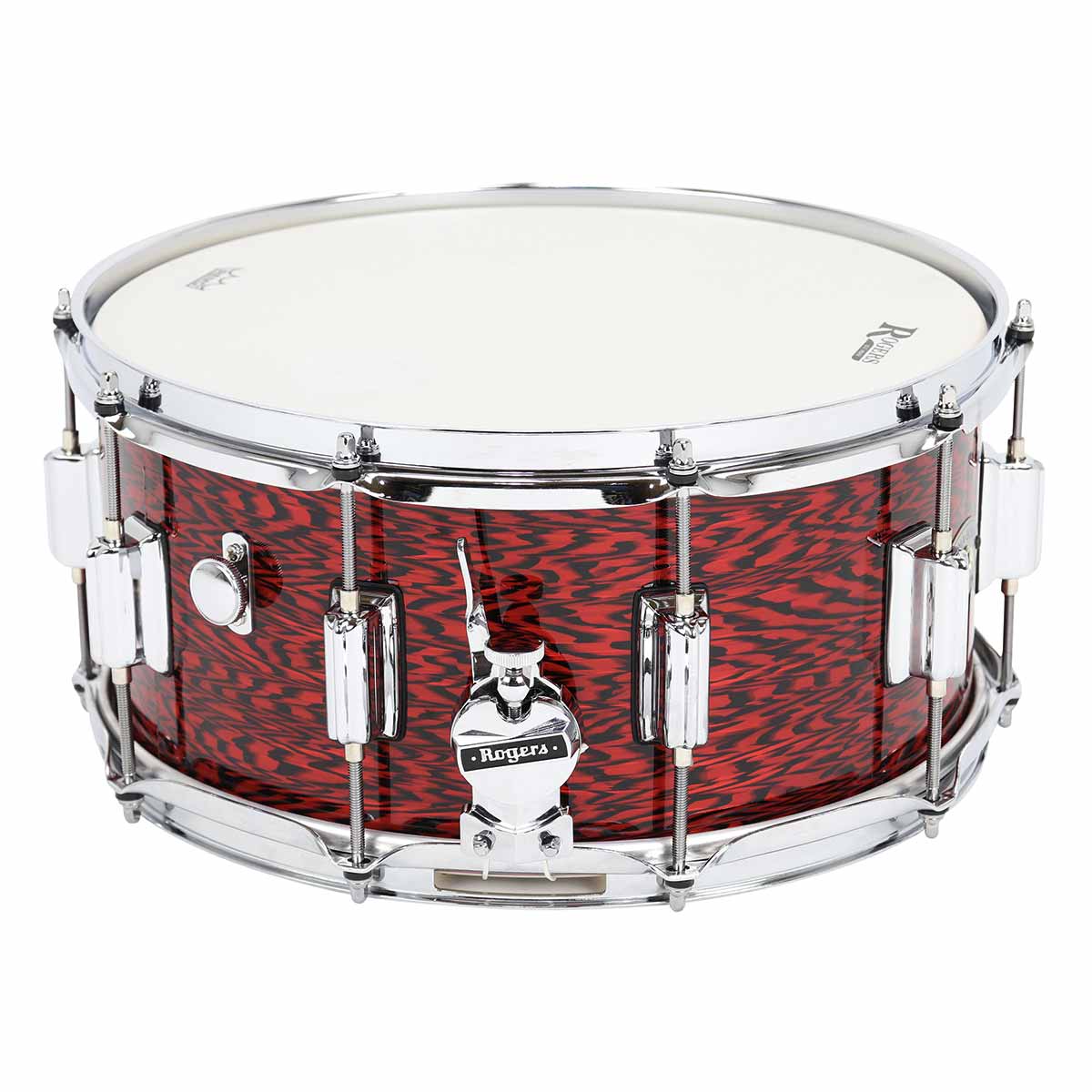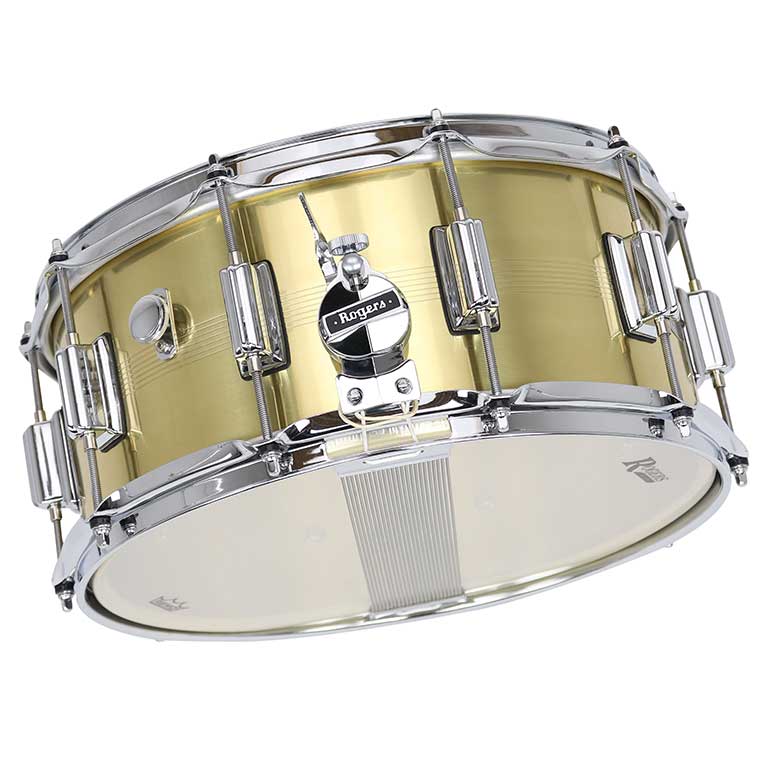 Brass shell models feature a 1.2mm gauge shell in a striking natural brass finish that looks stunning with any set up. Brass shells deliver volume, warmth, and tone that offer enhanced clarity in snare sensitivity, and volume to be heard over the band.
Brass shell models are available in 5"x14" (ST36-BN), 6.5"x14" (ST37-BN) and 8"x14" (ST38-BN).
Clock Face Throw-Off
The Rogers Clock Face Throw Off offers a simple yet exacting way to dial in the right amount of snare wire sensitivity with the simple turn of a thumbscrew. From "loose and fuzzy" to "crisp and focused" this strainer offers simplicity of function, as well as precision and confidence in your desired adjustment. The user-friendly throw off arm is conveniently located just behind the thumbscrew for easy on-off adjustment.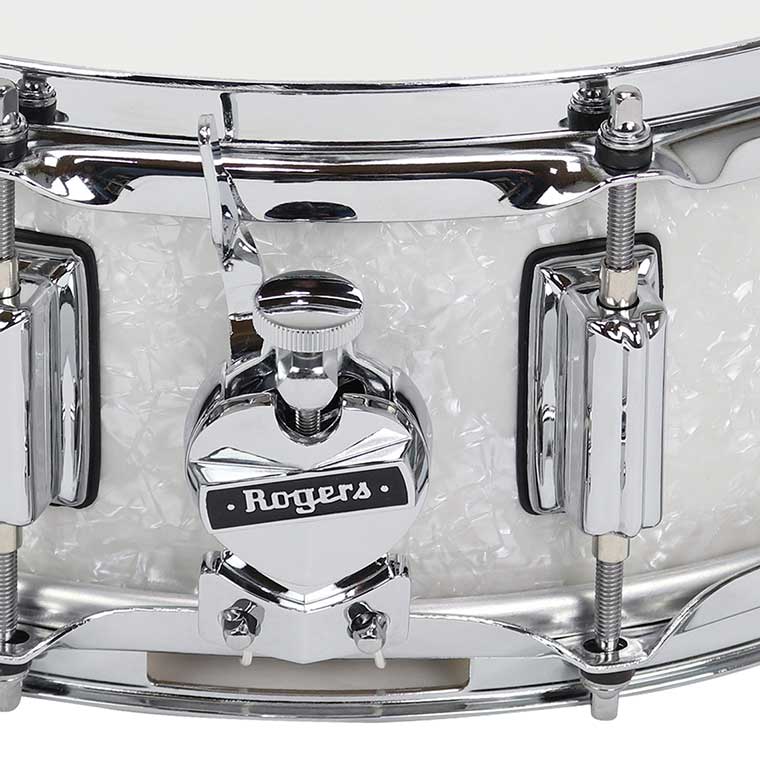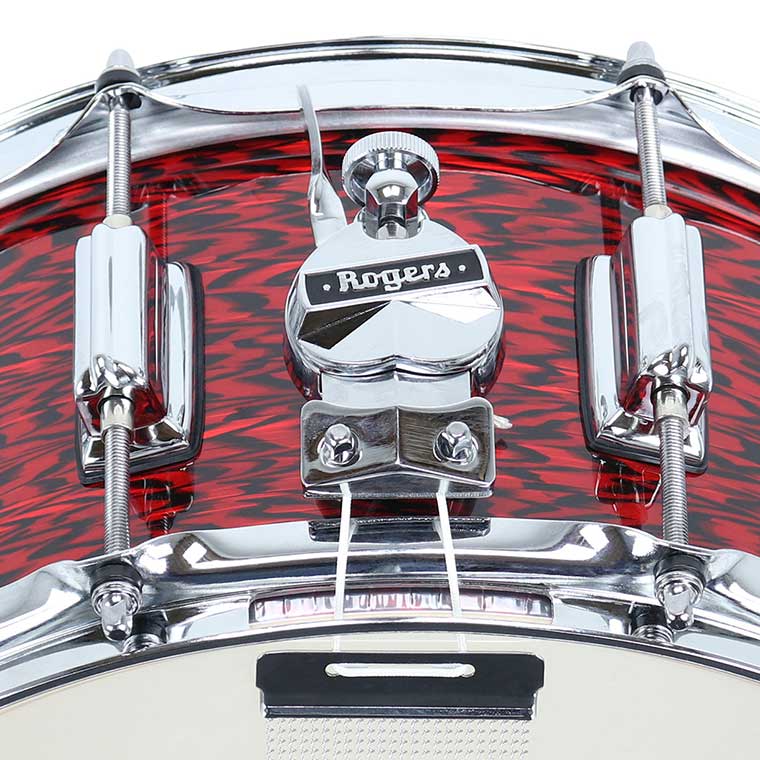 Hoops and Lugs
2.3mm chrome plated hoops are featured on all SuperTen models. These bring a modern focus in tone, accurate tuning, cutting rim shots and woody cross stick tones.
Rogers' Beavertail lugs are featured on all SuperTen models in a ten-lug design for accurate tuning, focus in tone and classic Rogers style.
Tone Control
For a quick change in tone and resonance, the internal tone control can be brought in or out at the turn of a dial. Drummers can make easy changes in resonance and tone without adding or removing gels or muffle rings from the batter side of the drumhead.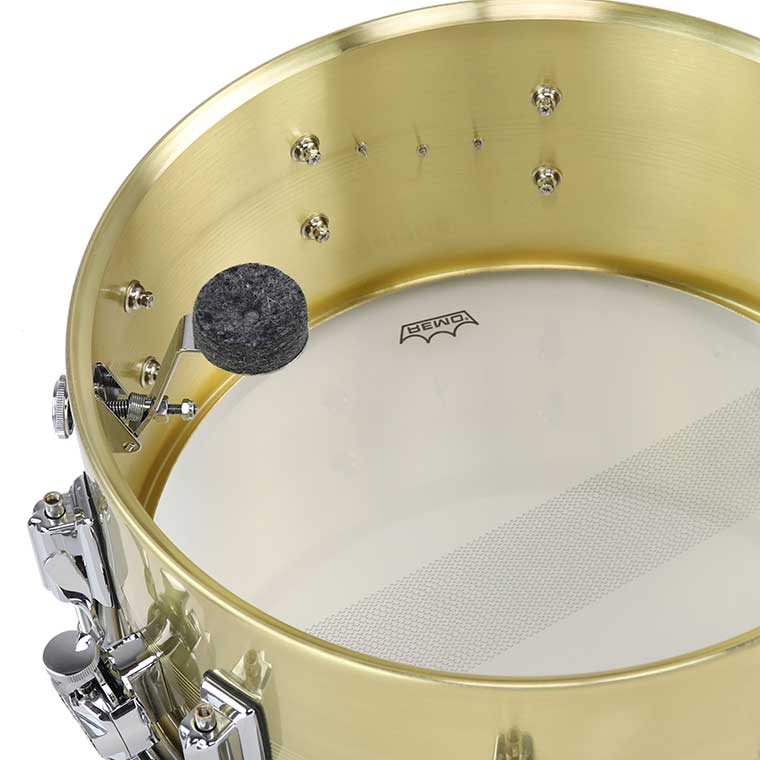 SuperTen
SuperTen snare drums are the ally of today's versatile drummer. These USA hand built wood and brass models offer versatility and superior tone in a variety of sizes that will fit any musical situation. Your imagination is the only limitation with where the SuperTen Snare drums will take you. This all- around USA hand built snare drum is cast from Rogers' own blueprint from the Golden Age of snare drum design, and will satisfy Rogers hardcore vintage enthusiasts and introduce today's generation of drummers to the true Rogers experience.